RoomC Video Sales and Rentals - Division Rhoades National Corporation
G.A. Riplinger author of "NEW AGE BIBLE VERSIONS"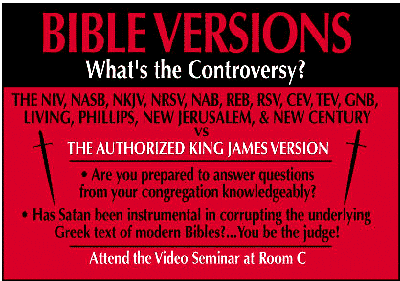 Presents a Video Seminar "Translation and Translators"
Thousands of participants in nearly a dozen of the major U.S. cities viewed this presentation filmed at a TV station in Kansas City or heard it aired on radio. Dr. Riplinger lectured 2 1/2 hours, presenting on a huge screen, nearly 100 actual pictures and charts documenting the new age and occult influence in the counterfeit new versions. The audience often gasped in shock, seeing such things as the NKJV's 666 logo - now on the forehead of the latest smart card owners.
This "picture show" is one-of-a-kind.
---
Video Entitled "New Age Bible Versions" by Gale Riplinger
Reviewed by Dr. Bill Crump
In this 2.5-hour video, Gale Riplinger, a former professor at Kent State University, lectures to the Prophecy Club. Here, she reveals the results of her exhaustive, six-year collation of modern, so-called New Age Bible translations versus the Authorized (King James) Bible. Utilizing numerous tables and charts, which are projected overhead, she reviews the following principal topics, among others:
1. Numerous passages of scripture in the KJV which the modern versions either omit entirely or set apart as allegedly spurious.
2. Vast numbers of word changes in the modern versions that limit or remove the deity of Christ, nullify hell or liken hell to the "grave," or make vague the concept of sin.
3. The NKJV logo of three interconnecting "circles" (actually three interconnecting 6s -- 666) can be traced to occult origins.
4. The reliability and remarkable agreement between the numerous, ancient Hebrew and Greek manuscripts which comprise the King James Bible.
5. The corrupt manuscripts upon which most modern versions are based; errors perpetuated through translations by Westcott and Hort in the 19th century and The United Bible Society. Also evidence for their occult origins.
6. Because modern translations are copyrighted, there must be significant word changes to warrant each new "version."
7. Contrary to sales pitches for the NIV and other modern versions, a thorough analysis reveals that the KJV is actually more readable than these others.
8. Evidence that modern Bible editors are in agreement with Luciferians, occultists, and the New Age philosophy of a one world religion.
Despite Riplinger's most informative and well-researched review, I felt that her presentation would overwhelm those who are totally unfamiliar with the modern Bible controversy. Although I've personally researched this topic as well as the Community Church Movement for more than a year, in some areas, I would have had difficulty following Riplinger, had I not been completely familiar with the material. Unfortunately, she only mentions in passing the Hegelian Dialectic principle and does not address the allegedly "archaic" language of the KJV. Nevertheless, this video should serve either as an excellent recap for the informed, or should motivate the uninformed to get cracking and study this subject thoroughly for themselves.

---
Click here to see similar videos | Click here to see all videos
---
RoomC Div. Rhoades National Corp.
Shipping: 40 Industrial Park Dr.
Mailing: 125 Rhoades Ln
Hendersonville, Tn. 37075
Phone: 615-822-9329
Email: RoomC@rhoadescar.com