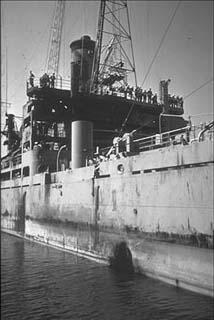 On June 8, 1967, Israeli warplanes and torpedo boats launched a ferocious two-hour attack against the USS Liberty, an American intelligence ship operating in the eastern Mediterranean. Of the 294 men aboard the vessel, 34 were killed and 172 were wounded.

For years the survivors kept silent about what happened, under threat by military authorities of severe punishment if they revealed the truth. Now, in this powerful film documentary, USS Liberty survivors speak with moving candor about what really happened.

"The Loss of Liberty" includes interviews with high-ranking Israeli military officers, who present the Zionist explanation for the assault. High-ranking American military and civilian officials, including Dean Rusk, former U.S. Secretary of State, and Admiral Thomas Moorer, former Chairman of the Joints Chiefs of Staff, provide authoritative analysis.