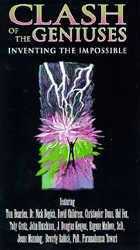 Clash of the Geniuses: Inventing the Impossible


Preceding every great advance in history, the geniuses of both the light and the dark have battled for the hearts and minds of the people. Despite the resistance of those committed to maintaining their own entrenched economic and political advantage, the seemingly outrageous impossibilities of one generation become the revolutionary breakthroughs of the next.

In the 20th century, while Marconi, Henry Ford, Thomas Edison and George Westinghouse managed to capture most of the attention, others, with technological prowess bordering on the miraculous, have gone unnoticed.

Men like Tesla, Moray, Riech, Russell and Schauberger, largely rejected, ridiculed and despised by the scientific establishment of their day, labored in nearly complete obscurity, achieving almost incomprehensible miracles like free energy, anti-gravity, transmutation of elements, physical rejuvenation technologies and more.